Okio Yasuike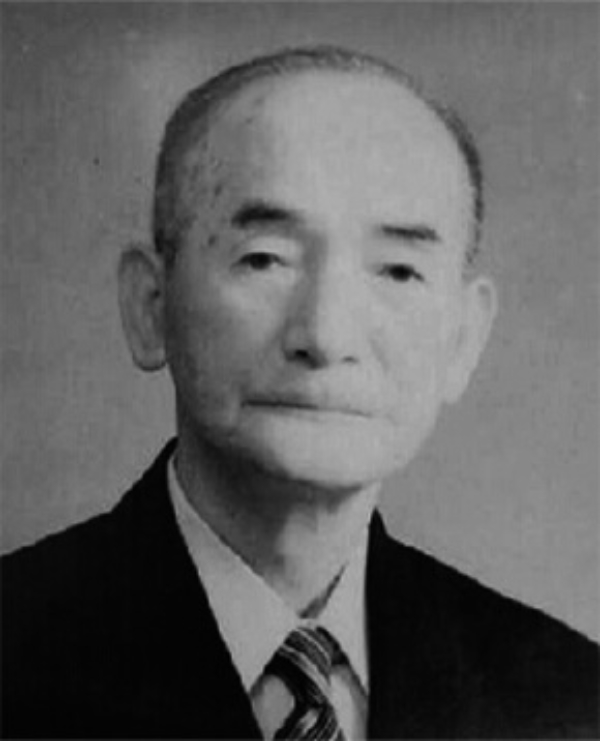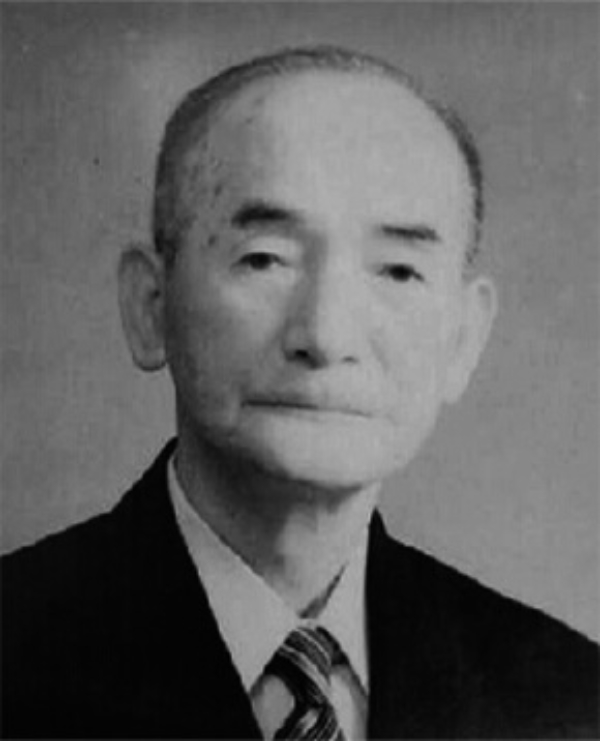 In 1938, upon the construction of Lake Okutama, villagers from Tabayama and Kosuge who were about to lose their homes which were to be underneath the lake, moved to Kiyosato and started developing the area. Mr. Yasuike was a technical officer from the Ministry of Agriculture and Forestry of the time. He gave agricultural directions and lead the settlers.

It was such a hard work to grow crops in Kiyosato, where it is so cold that it is called "Hokkaido of Yamanashi." Mr. Yasuike, however, regardless of his own life, continued to support the settlers by providing fertilizers and building a small branch school and so forth. These endeavors of Mr. Yasuike, with his bonds of friendship with the settlers, are still passed on down by word of mouth.
---
"Story of Kiyosato"
(Written by Yoko Kono. In Kiyosato, a picture book publication based on this writing is planned. It is aimed at handing down the story of hardship but full of trust and hope, to the locals and the visitors of Kiyosato.)
Kiyosato is a highland that has an elevation of 1,200 meters.
The water is cold, the sky vast, and Mt. Fuji seen afloat in a distance. Fall and winter are long with the minimum temperature going down to negative twenty degrees Celsius.
It may have been from 1898 when people started calling this highland in the foothills of Yatsugatake, Kiyosato. On February 15th of this year, former Asakawa and Kashiyama villages merged to become Kiyosato village. It was just a small village, nothing special.
In the summer, Kiyosato becomes a town of the young. The streets around the station, SEISEN-RYOU, Japanese accommodations, guest houses, coffee and souvenir shops all become packed with people, people, and people. A group of cyclists in red pants run through the meadows, and couples wait hand in hand for their turn to buy soft-serve ice cream.

Kiyosato has changed.
When we came to Kiyosato as settlers, it was a wilderness all around. Our home town is lying under the water of Ogochi dam system/ Lake Okutama which is called the water jug of Tokyo. To build the dam, as many as 945 households from three villages, Ogochi, Tabayama, and Kosuge, had to move to different places. We were making living by making charcoals and growing miscellaneous grains when swallowed by a monster called "The Grand Plan for the Future of Great Tokyo". We could not speak out a word of opposition.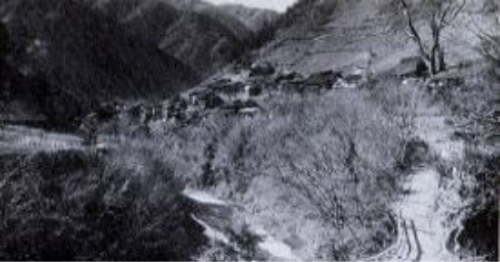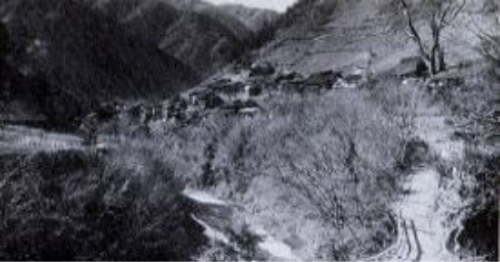 Furthermore, the city of Tokyo had changed its commitment again and again. Six years had passed when we finally left the village with compensation money. Villagers had lost their way of living and the fields and paddies went wild. Only debts were piling up. We, the twenty-eight households from Tabayama village decided to move to the Nembagahara in the foothills of Yatsugatake to seek a new ground. Even though we knew that the settlemet is not yet ready for us to move in to, one member from each household gathered to form an advance party and started off from the village leaving his/her family behind.


April 17th, 1938.
On the way to Kiyosato at Kofu station, we were welcomed by a calm, fair-complexed young man. He was Mr. Okio Yasuike, the director of the office of Yatsugatake reclamation project of the agricultural land section of Yamanashi prefecture. When we arrived at Kiyosato station, the sky was marvelously clear. I, who was still young, exclaimed to myself "the dome of the blue sky is my home!"
At first, a hoe was handed to each of us as a farming tool for the time being. From that day, life began, making the project office and the warehouse our temporal lodgings and sleeping on the wooden floor with our clothes on. The hardship was supposed to be for a brief period of time until we receive compensation from the nation and the prefecture to build our homes. But the compensation for transfer that we received was all gone when the piled-up debts were repaid. There was no other way of life but to stay here and survive.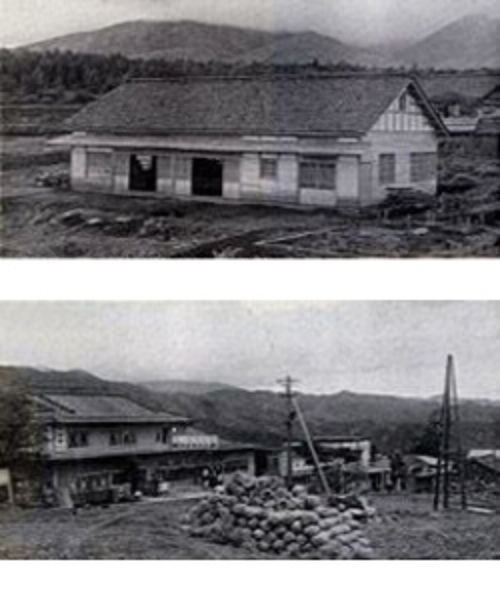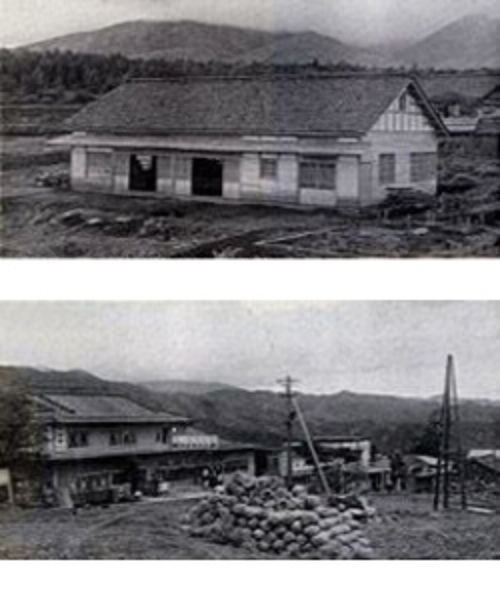 How boundless Kiyosato is!
We, who were used to cultivate narrow strips of land on steep mountain slopes, were at a loss.
For the first week, Director Yasuike took us to Minamimakimura village in neighboring Nagano prefecture to study highland agriculture. Walking about and observing such people growing cabbages and Japanese cabbages in Nobeyama district and rice cultivation in Itabashi district where the elevations are higher than our Nembagahara's encouraged us.
Director Yasuike made experimental fields with the three elements, nitrogen, phosphate and potassium for us for we lacked good knowledge of fertilizers. A piece of land of about half a hectare was allocated for each household. We used lottery to decide who gets which piece. Drawing was repeatedly done to be fair. To neutralize the acidic soil, lime was scattered, and seeds and seedlings of crops such as potatoes, sweet potatoes, soy beans, azuki beans, maize and field rice were distributed.

We have to push ourselves hard and survive!
More than three months had passed. There was no sign of building of the housing we were promised to move in. Everyone was getting tired of living together. We made a proposal to Director Yasuike about building our own individual shacks.

Wisdom of building charcoal-making-cabin that we acquired in Tabayama was employed. Logs were assembled, barks were used to shell, and the entrance covered with a hanging straw mat. Even the largest one was merely about eight-tatami-mat large. Families were called in one after another. One family even brought their family tombstone on their backs along with their furniture. Children started going to Kiyosato elementary school, six kilometers away.
Our first harvest in the highland was daikon radishes. I cannot forget the joy of pulling each one out, holding its lush green leaves.
At Director Yasuike's suggestion, farmers union was founded. The first shipment was two carloads of cabbages to a market in Osaka. Upon hearing their popularity, we took each other's hands in joy.
To increase our cash income, we decided to hawk vegetables on Director Yasuike's advice. We brought daikons and potatoes to Kofu on a freight car, stayed at Director's official residence, and took turns to hawk in the city.

"Ma'am, we're fine at the corner of the dirt floor, since we're dirty"
"What are you talking about. Please come this way"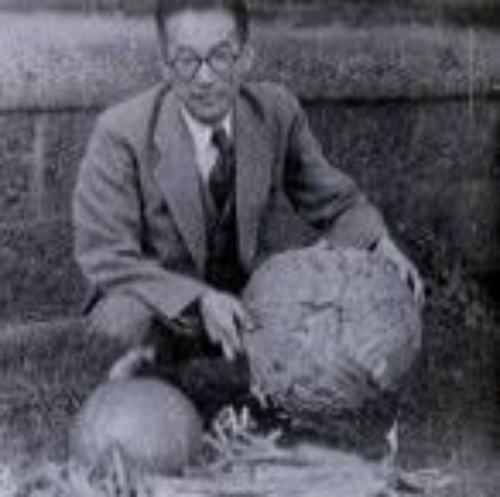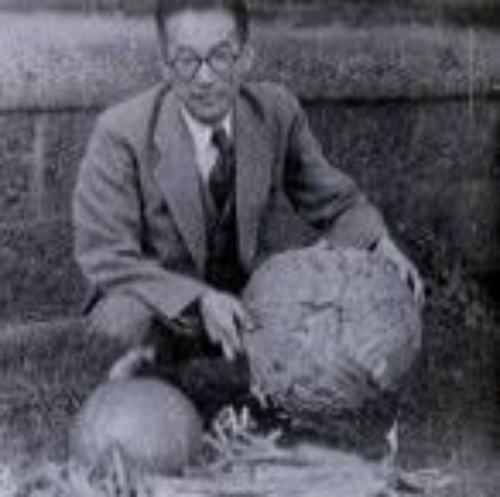 In our shacks, pine roots are constantly smoldering for light and heat. The smell of resin clung to our body and clothing and smelt strange. Regardless of that, director's wife sincerely treated us as visitors. She even came with us to take orders for pickling daikons around the official residences.
At the beginning of November, it snowed on Akadake, the main peak of Yatsugatake. Step by step, it snows in places of lower elevations for the second and third time, and for the fourth time, it reaches the village. The long and harsh winter of Kiyosato begins.
Ultimately, we are to spend this winter in our shacks. Director Yasuike clearly seemed worried. He told us that on some nights, he stayed awake thinking about the coldness of the highland as he heard the crickets in space under the floor singing in chorus at his Kofu official residence. One more thing we were worried about was school attendance of children. On the six kilometer long way to school, there are hills and valleys. The path to Otaki is slippery and dangerous. How much snow fall can children stand to walk on? Adults have been worried and taking turns to accompany younger children to school. But there are too many things to do in the settlement. Time is precious for us. We, from the bottom of our hearts, hope to have a school near by. An eighty-year-old grandma had passed away. The trouble is that we have no place to bury her.
The village cemetery has become full, because quite a few people in the settlement has already died. Director is making a great effort to deal with the police.
Most of the dead so far have been old people and children. The environment is too awful. Even inside of the shacks goes to negative twelve, thirteen degrees Celsius in winter. Pickles in a bowl and leftover tea all get frozen solid.

"In any case, we have to build houses"
Director's endeavors began.
Floor space 84.15 square meters, concrete foundation, a farm house with white plaster walls and a tiled roof. The breakdown of the 1,000 yen construction expense was 300 yen from the government subsidy, 100 yen from the prefecture, and 600 yen from the city of Tokyo. The prices were rising because of the Sino-Japanese war and we were told that it was impossible with 1,000 yen. But when the housing was finally completed with our help for odd jobs, the settlement was in its second winter. It was in 1939.

Another headache also turned up. Children stopped going to school. With an elder child's exclamation "Here we go!" as a sign, everyone threw his/her bag on the path in the mountain to play around all day and came back with an innocent look.
"Because everyone bully us by saying 'immigrant children are coming'"
It was because of the smell of pine resin. However, no matter how much they were hated, if we stopped burning pine roots in the house, they will be shivering with cold in the dark. Parents started to want a school more strongly as they scolded their children. But to build a 330-square-meter-two-class-room branch school, it would cost as much as 12,000 yen. When Director Yasuike made efforts, with the cooperation of Ogochi dam construction office, city of Tokyo decided to provide 8,000 yen. However, the application of government subsidy, 3,000 yen, was simply turned down because "A branch school is a luxury for such a small developing land"

However, the company bit by bit asked for money needed for inflationary prices and when it exceeded the amount of contract, disappeared at once. The school house, which had just had its framework raised was standing in wind and rain.
Five households that were anxious and dissatisfied of the situation suggested that they would want to leave the cooperation. They wanted their houses and fields, but be free of their actions and leave the union, from then on. How selfish. "We do not want to go down together. We cannot follow you, anymore" As a parting shot, they said to Director Yasuike who was worried about them, and left us. Those were the ones with some left over compensation money.

Usually calm Director Yasuike gave a fiery speech. That extinguished our anxiety that we had had deep down in our hearts since we arrived here, of his going somewhere sometime, and helped us make up our mind to become able to take care of ourselves while this director is around.

"I decided to borrow money from my father in Shizuoka. With that, let's complete the construction of school" Director left for Shizuoka accompanied by two delegates. Noting Director's absence, the carpenter came with people from those five households to take building materials and tools from the site.
Informed of the emergency, we hurried to the site. At Kiyosato station, scene of carnage was almost created in the dusk. However we kept larger materials, they took every nail, wire and bolt wrapped in a blanket. During this military-charged period, it was difficult to obtain materials. "We need to notify Director Yasuike"

We could not wait for the first train the next morning. At ten in the evening, we, the young two, ran down the forty-kilometer mountain path with lanterns. We indeed were tired when we got to Nirasaki at dawn, dozed off for a while on the rock in front of the station, and arrived at the official residence in Kofu at eight in the morning. Uninformed Director and others were cheerfully having breakfast after having been successful to get the loan. Director seemed to understand something grave had happened as soon as he saw the two of us. "Why do you have to suffer so much. You were sacrificed for people of Tokyo..." Tears flowed down on Director's cheeks as he held us, who were crying like babies, in our hands.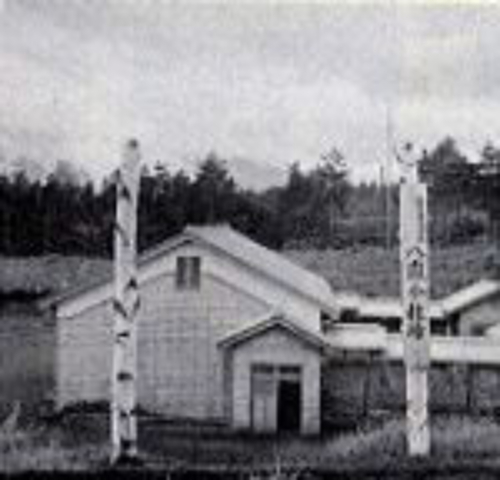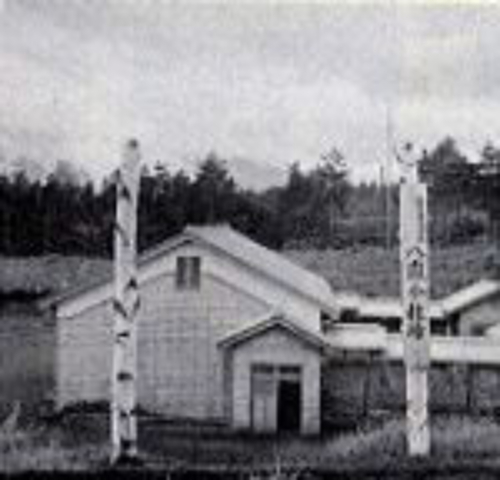 Hunchbacked elder ones are bringing tea.
Little ones are picking up small rocks to clear the way. People on and under the roof are signaling each other.
Director Yasuike is nailing boards in the corridor.
We were lucky to have a young man with carpentry skills. As the saying "Work together around the clock", we completed the construction that experts said would take six months, in as few as twenty days. All the people from twenty-three household burned and burned to complete the construction for twenty days. A small branch school was built in a windbreak forest in Kiyosato highland. With only two class rooms, but with a teachers' room and a night keeper's room.
Director Yasuike is walking around and ringing the bell in the highland's morning mist. He is telling each household to join the unofficial party to celebrate the completion of construction. Home cooking was brought in, and the celebration began at the branch school that smelt fresh wood. As sake started to take effect, each struggle to date were clearly remembered and tears of joy or vexation overflowed. To express the feelings beyond description, without a cause, a fight started and someone got a bleeding nose. "Stop it! Are you defiling the new schoolhouse with blood?" It was a shriek of Director Yasuike. "What was it that supported us until now? It was only mutual trust. You were serious because you had no money. You united because you were poor. Riches is not always a treasure. The joy of today is not shared with the five who dropped out"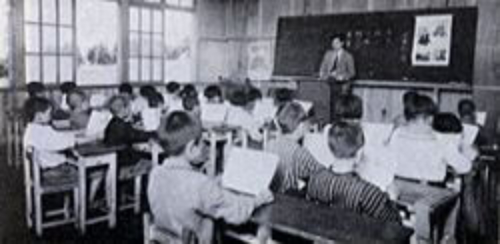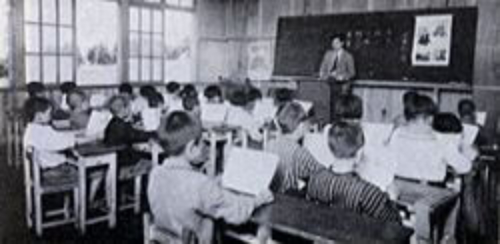 Director Yasuike, who stood to make a speech, was so moved that he cannot say a word on the podium. Adults and children alike looked down and sobbed. After the ceremony, the children performed a play. They had done their best to practice for a month for this day. We laughed and applauded from the bottom of our hearts for the first time in a long time. In June, 1941, Director Yasuike was ordered to be the chief of the agricultural land section of Nara prefecture. Come to think of it, for these three year, Director had endured in dilemma between his status as a government official and personal feelings towards us. Have his superiors who used to frown at him changed their attitudes toward Director when he completed the Yatsugatake reclamation project, and under the alarming war situation, increasing the food productivities became an important national policy? We are repaying the debts of the branch school construction. The farmers union has just launched the landed farmer establishment project. But now, we are on our own. We cannot restrain a young man with a future forever.
We cried at Kiyosato Station. Farewell, teacher Yasuike, our beloved Director who was our father and brother.
Good bye, good bye.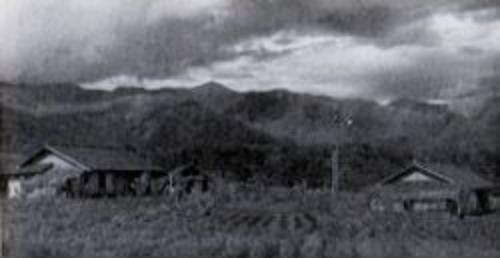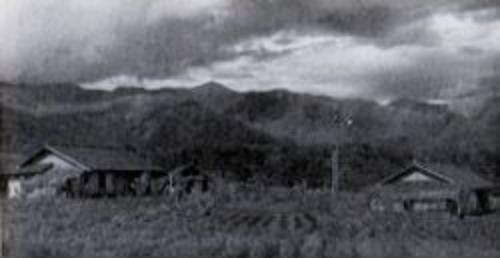 Half a year had passed after Director had left when the Pacific War broke out. Many men from this settlement departed to the front and some never came back. We heard that the Ogochi dam sytem construction came to a halt. Meanwhile in October 1944, all debts were repaid and landed farmer establishment project was completed. We wrote to Director Yasuike for the first time in a while. "Thanks to you, we have lawfully become landlords. It is like a dream..." Quite a while after Director left, we came to learn of a fact for the first time.

For more than a year after we came, fertilizers, seeds and seedlings were distributed. However we believed that they were all from the prefecture, those were, in fact, paid by Director. Director had spent most of his yearly salary for us. The prefecture which did not allow us to have the least amount of money for agricultural operation, in conclusion, just gave each of us a hoe. After the war, to break through the food shortage, Japan emphasized reclamation policy and new settlers were sent also in to Kiyosato one after another. The first group of those are the ones that now reside in Asahigaoka district. They were astonished to see how we, their predecessors by eight years, lived so poorly. Even though it was Japan that emphasized the policy, in the end, each and every fund burdens the settlers as debts. Following Asahigaoka, settlers kept increasing in Higashinemba and Shimonemba, who also had strings of difficulties. It was around that time when Dr. Paul Rusch of Rikkyo University opened Kiyosato Agricultural Community Center by remodeling a university facility that existed since before the war. Buildings such as a grandiose church, an experimental farm, a hospital and a library were erected and communication with the local farmers often took place. For us, farmers, the county fair held every August was especially the largest festival. We competed against each other in contests of cows and pastures. Study groups for agricultural techniques and dairy farming were there, too. Moreover, there was time during which they provided milk for elementary school pupils. In return, we used to mow the grass around the farm.

Eventually, young people from the city started to visit Kiyosato. SEISEN-RYOU, the accommodation building at the Community Center became very popular. Kiyosato gradually became touristy. Our group of people started to switch their business to inn management around 1969. I also manage a dairy farm and an inn myself, now. The village of Kiyosato has merged with four other nearby villages to become the town of Takane. In 1971, in the corner of a meadow in the highland, our cemetery was established. The orderly rows of twenty-three gravestones are facing our hometown, Tabayama village. As if to watch over us, the very last one stands for our teacher Yasuike. It was build before his passing away.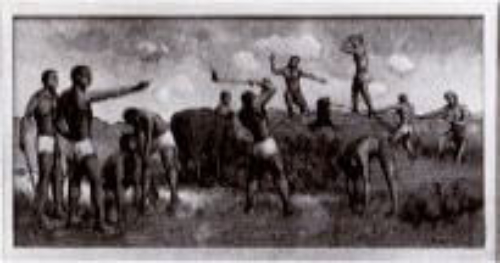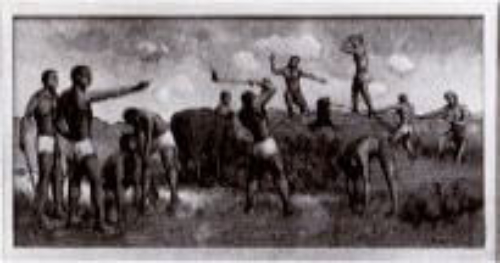 In the back of the gravestone, our teacher had it engraved "Emotional heart clears the way to paradise---Okio" Not many of us who shared joys and sorrows are left, now. Someday, all of us will rest in peace under these granite stones looking up at the blue sky in the highland. The construction of Ogochi dam system resumed in 1948 and the dam was established in 1957. Then, it was renamed Lake Okutama to be loved by people as a recreational place of Tokyo. Surrounded by the greens, is the lake water as blue as the sky in Kiyosato?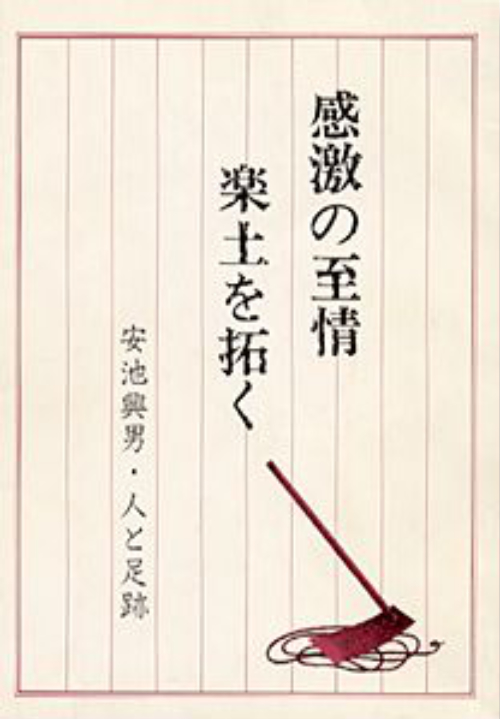 *This text was reprinted from "Emotional Heart Clears the Way to Paradise"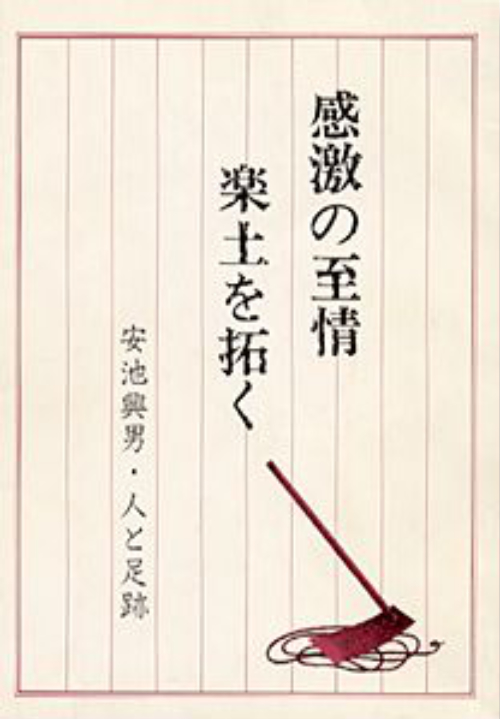 *This text was reprinted from "Emotional Heart Clears the Way to Paradise"